Button Training from Christina – 3 Pack
3 Pack of Button Training Sessions from Christina Hunger, the Founder of the Talking Dog Movement
In stock
Learn directly from the one who started it all! Christina is the founder of the Talking Dog Movement, NYT Bestselling author of How Stella Learned to Talk, and a licensed speech-language pathologist.
She will use her professional expertise in language development, communication devices, and parent coaching to help YOU get your own dog talking.
Christina's work has been celebrated by The American Kennel Club and multiple animal language experts, featured in major publications throughout the world, and has completely revolutionized the field of interspecies communication.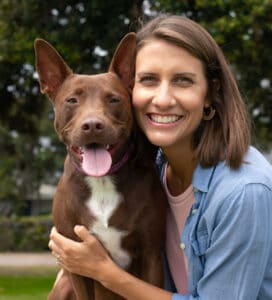 "Teaching my dog Stella to talk has been one of the greatest experiences of my life. Stella's ability to use words has given me a unique insight into her mind, strengthened our relationship, and ensured that we're caring for her in the best way possible. I believe every dog deserves the autonomy that comes with using words independently, and that every owner deserves to understand their furry family member."
Christina Hunger, MA CCC-SLP

, Founder of the Talking Dog Movement and author of How Stella Learned to Talk
---
What's included:
Three 1-hour video calls with Christina where she will:
Learn about your dog's current communication patterns
Demonstrate teaching strategies
Answer questions about your dog's communication
Troubleshoot teaching challenges
Provide Personalized Training Plans (PTPs) to help you start, improve, or level-up your dog's communication skills
Review your progress and provide updated PTPs in second and third sessions
Provide email support for one month following each session
*All stages of learning are welcomed!
---
Praise for Christina's work with Stella:
"When we are open to the idea that communicating with another species is possible, and provide a language-enriched environment, we create the space for a shared language and a deep connection. Christina has provided the key that unlocks this potential for all of us."
Penny Patterson, PhD

, President and Research Director of the Gorilla Foundation and Project Koko
"The natural ability that dogs have to understand and communicate with us is truly incredible, going much deeper than just wagging tails and happy barks. I'm so thrilled that Christina is using her experience as a speech and language therapist to give dogs a way to 'speak' with us in a more complex, profound way."
Zak George

, host of Zak George's Dog Training Revolution
"Christina has shown that a dog has the cognitive capability to learn to use buttons as words and to formulate meaningful sentences. She also has very practical advice on how to teach your dog to do the same."
Con Slobodchikoff, PhD

, author of Chasing Doctor Dolittle: Learning the Language of Animals
---
Details:
To best help you teach your dog, a questionnaire will be sent to you within 24 hours of your purchase. This will provide Christina with all the necessary information to make your session as impactful for you as possible
You will receive a link to book your session with Christina in the welcome email within 24 hours of your purchase.
30 day back guarantee if we are unable to schedule this session or for any other reason
More Hunger for Words Merchandise